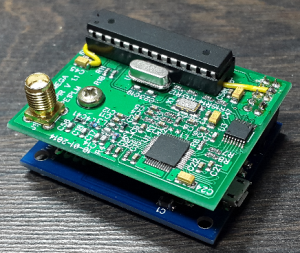 Hi All,
Finally the first boards are in production. BlueStack-Micro is its name.
David, PA7LIM is writing new software, an app to support  multiple platforms on android OS. To have compatible hardware, this little board will be the first to be released in a series of 3.
BlueStack Micro, a board that fits the PI-radio (dvmega.auria.nl), bringing a Bluetooth connection to use your phone to connect to the global network on D-star DMR and later Fusion!
BlueStack1, a board you can 'stack' between your arduino and the dual-band-radio (dvmega.auria.nl), and use it via Bluetooth to your phone / tab.
BlueStack2, a board that has similar features as above, but also has an integrated amplifier and dtmf-unit. Just put the AMBE3000 in place, and use it as a HAM-radio!
What is the difference between BlueStack-Micro and BlueStack-Micro+?
BlueStack-Micro is a board, which is ONLY Bluetooth capable, and can be used for the BlueSpotDV-App, connecting to both dual- and single- band raspberry-pi radio-module.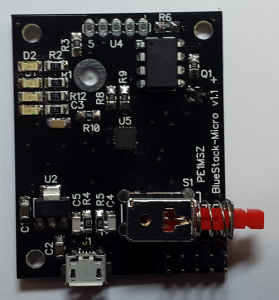 BlueStack-Micro+ is equal to BlueStack-Micro, however has an onboard USB-UART, usable for upgrading firmware, MMDVM, and G4KLX software.
new processor code now disables programming-mode after 60 seconds, to fix MMDVM-coms via USB. If you do see issues, remove the wire after radio-firmware upgrade.
Connecting Bluetooth, select device BlueStack, and use pin: 1234
Working demo of BlueStack-Micro + here
Order your BlueStack-Micro or BlueStack-Micro+ here!
User and installation-manual for BlueStack-Micro Here!
User and installation-manual for BlueStack-Micro+ Here!
Buy the boards here: http://www.combitronics.nl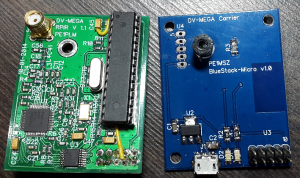 Ruud, PE1MSZ.