Little-RED, also known as MicroProg 1.1 is another unit in the BlueStack-Micro-range.
What is Little-RED?
This unit is the program-adaptor that fits to your pi-radio, and gives you the opportunity to do firmware-update's, but also MMDVM!
How does it work?
If you connect the USB-port to your PC, it will find a comport. In the first 60 seconds this units is connected it is a programming-adaptor (same like Micro+), after the 60 seconds, the programming-options are disabled, and the unit is now capable of interfacing your pi-radio to MMDVM-host, or G4KLX.
Does it have Bluetooth?
No, this module is basically a PC-interface for PC or Raspberry-pi. For Bluetooth communications, choose either BlueStack-Micro or BlueStack-Micro+.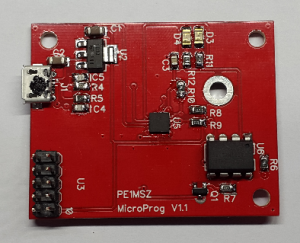 Buy the boards at: www.combitronics.nl